Dorinda Gullett
1944 - 2020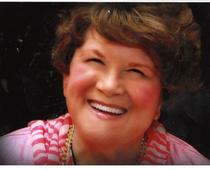 Dorinda Jean Gullett, 75, of Wheelersburg, Ohio, passed away peacefully Friday, March 6, 2020 surrounded by family at Best Care Nursing Home, where she lived for the last 20 years. She was born October 14, 1944 in Portsmouth, Ohio to the late Paris 'Zeke' and Jean Gullett. She is survived by her sister, Linda Layne of Wheelersburg, and two brothers, Robert (Vicki) Gullett of Portsmouth, Ohio and James (Kim) Gullett of Ft. Mill, South Carolina.
The joys of her life were her nieces and nephews, Kristi Meadows, Brandon Gullett, Jim Layne, Heather Woolum, Sarah Warren, Robert Gullett Jr., James Gullett Jr., and Samantha Gullett and grand-nieces and grand-nephews, twins Jessie Lynn and Jamie Lee Meadows, Laynah Kiser, Kaylah and Jennah Warren, Alexis Downing, Gavin, Maverick, and Avea Lentz, Emily and Madison Layne, Alex Gullett, Jacob, and triplets Mason, Madison, and Abigail Wollum.
Dorinda also loved the nursing staff of Best Care.
Blessed are the pure of heart for they shall see God.
Services will be 2:00 pm Tuesday, March 10, 2020 at Harrison-Pyles Funeral Home in Wheelersburg. The family will receive friends at the funeral home Tuesday 1:00 pm until the 2:00 pm service hour. Interment will follow in Lucasville cemetery. Condolences may be made to the family at www.harrison-pyles.com.
Condolences
Monday March 9, 2020
Donna Cooper Brinkman
To Linda and Family: I remember Dorinda as always smiling and so sweet. So sad to hear this news and are thinking of you all. My brother Steve sent me a text this morning with a copy of the obituary. Best Wishes - Donna Cooper Brinkman
Sunday March 8, 2020
Loretta Gullett
Dorinda was a very happy pleasant girl no matter when you saw her. I wish I could be there but I know the family understands. I wish the best for all the family. Love. Aunt Retta.
Sunday March 8, 2020
David and Sarah Warren and family
We love you, Aunt Rindy!