Carolyn Salyers
1944 - 2020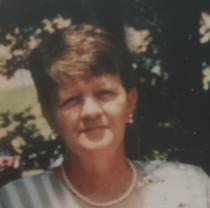 Carolyn Sue Salyers
LUCASVILLE- Carolyn Sue Salyers, 75, of Lucasville, passed away Sunday, July 12, 2020 at her home. Carolyn was born September 18, 1944 in Clinton, IN to the late John Thomas Berry and Mary Winifred Cramer Berry. She worked at SOMC as an office manager. In addition to her parents, Carolyn was preceded in death by four brothers, Donald Lee, Joseph, John Dale and Charles Thomas Berry. Carolyn is survived by her husband, Charles Virgil "Tim" Salyers, whom she married October 31, 1964 in Portsmouth, Ohio. Also surviving is two sons, Timothy Joseph (Sandy) Salyers and William Robert (Rhonda) Salyers; a daughter, Lisa Salyers; three brothers, William, Jerry and James Berry; three sisters, Charlotte Jones, Loretta Blankenship and Mary Madden and four grandchildren, Ian, Justin, Kolton and Bryce Salyers.
Services will be 11:00 am Friday, July 17, 2020 at Harrison-Pyles Funeral Home in Wheelersburg with Pastor Will Baldridge officiating. Interment will be in Sunset Memorial Gardens. The family will receive friends at the funeral home 6:00-8:00 pm Thursday, July 16, 2020 and one hour before the service on Friday. Condolences to the family may be made at www.harrison-pyles.com.
Condolences
Friday July 17, 2020
David L. Bussa
Bob, so sorry for your loss!!!
Thursday July 16, 2020
Melissa (Mssy) Powell
I'm so sorry for your loss and I have everyone in my prayers. Aunt Carolyn was such a beautiful, happy and just a great woman. The Lord has received a wonderful gift and she will now forever be your guardian angel.
Tuesday July 14, 2020
Shawn Fite
I am very sorry for your loss. I will be thinking of your family during this difficult time.