Tomi Stiers
1967 - 2020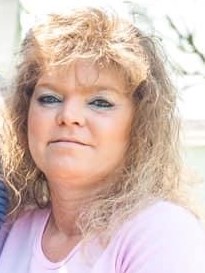 Tomi Sue Stiers
WHEELERSBURG-Tomi Sue Stiers, 53, of wheelersburg, passed away Friday, July 31, at SOMC in Portsmouth. Tomi was born May 2, 1967 in Portsmouth to Tom Hurst and Carolyn Phipps Hurst. She is of the Baptist faith. In addition to her parents, Tomi is survived by her husband, Daniel Stiers, whom she married May 25, 1989 in Wheelersburg. Also surviving are two sons, Jerry Lee Stiers and Brian Taylor Stiers; a brother, Brian Hurst; two sisters-in-law, Debra Sparks (Dave Sparks), and Katherine Davis (Shawn Davis); a brother-in-law, Ralph Bell, Jr. and her mother-in-law, Victory Bell. Tomi was preceded in death by her grandparents, Arthur and Millie Hurst and Leslie and Minnie Phipps, her father-in-law Ralph Bell and a brother-in-law Jerry Stiers.
Services for Tomi will be 11:00 am Wednesday, August 5, 2020 at Harrison-Pyles Funeral Home in Wheelersburg with Pastor Mike Musser officiating. Interment will follow in Memorial Burial Park. The family will receive friends at the funeral home 6:00-8:00 pm Tuesday, August 4, 2020 and one hour before the service on Wednesday. State mandate requires masks be worn and social distancing at the visitation and service. Masks are not provided by the funeral home. Condolences for Tomi may be made at www.harrison-pyles.com.
Condolences
Saturday August 8, 2020
Amy Parker Perry
Tom, Carol, and Brian. So sad for your loss. Tomi was always a sweet person. So very sorry. Praying for everyone.
Saturday August 8, 2020
Janice Drexler
Prayers for all of Tomi's family. I so appreciate the kindness and help she gave my parents(John & Ruth Riepenhoff) when she was their neighbor. Tomi was a sweetheart!
Friday August 7, 2020
Mike and Bonnie Piguet
So sorry for your loss sending prayers and love to your family. God bless (Tomi Sue)
Wednesday August 5, 2020
Melissa White
So extremely sorry to hear about Tomi. Sending love and prayers to you all. She was such a beautiful person. Herb and Missi White and family.
Tuesday August 4, 2020
Sherry and Wendell Keen
To all the Stiers family, we are so sorry to hear about Tomi, she was a special lady that kept us laughing. She was always ready to go shopping and out to eat. May she no longer hurt, and be in the arms of God. I'm glad I got to meet and know her.
Tuesday August 4, 2020
Donna Drake
Tomi you was always one of my favorite customers at Ridge Mini Mart We always had so much fun Love you girlfriend!! Until we meet again ????
Tuesday August 4, 2020
Sue Salyers
I'm so sorry for your loss of Tomi Sue. I have been ill and won't be able to attend but I send my love and prayers to all of you and know God will be with you through all of this.
Monday August 3, 2020
Gary Summe
Dano, Jerry, Brian, and the rest of the family, I send my deepest condolences to you all. Toni was a firecracker and would tell you what she thought, that's what liked about her. You are all in my thoughts and prayers.
Monday August 3, 2020
Brenda and Bub Horner
To Tomi's Family we are beside ourselves of the loss of your wife,mom,daughter, sister. I'm so very glad we became friends and talked for over an hour on our phone calls to each other. Tomi was a special lady and will be sadly missed by many. I'm so very glad I met her and got to spend some very good times together. RIP my dear friend till we meet again.
Monday August 3, 2020
Lou Ann Mohler
Sending prayers during this difficult time and the following days. Toni Sue was always such a happy young lady. RIP Toni Sue
Monday August 3, 2020
Jim and tammy wolfe
Our prayers are with u all at this time.r.i.p.tomi sue stiers