Ricky James
1963 - 2021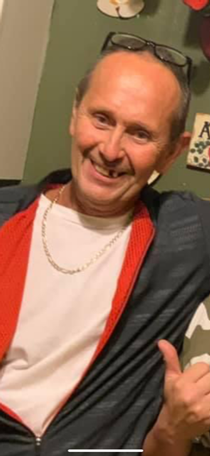 Ricky Arnold James
PORTSMOUTH-Ricky Arnold James, 58, of Portsmouth, passed away Saturday, January 2, 2021 at SOMC in Portsmouth. Ricky was born January 1, 1963 in Portsmouth to Imogene Sharon Risner Massie and the late Dale Massie. He was also preceded in death by a sister, Crystal Massie. Ricky was a high school graduate and worked as a roofing contractor. Ricky is survived by two daughters, Katelyn Malone (Dustin) and Jaden Hatfield; four brothers, Ralph James (Anna), Allen James, Curtis James and Stephen Massie; two sisters, Pam McNeal, (Scott) and Becky James; ten grandchildren and his lifelong partner, Paula Hatfield and her two children, Tiffany and Marty Hatfield (Heather) and many nieces and nephews.
Services will be 1:00 pm, Thursday, January 7, 2021 at Harrison-Pyles Funeral Home in Wheelersburg. Interment will be in Friendship Cemetery. The family will receive friends at the funeral home Thursday, from 11:00 am until the 1:00 pm service hour. Condolences to the family may be made at www.harrison-pyles.com.
Condolences
Wednesday March 10, 2021
Tisha Kelley
Oh my. This is sad. It's so hard to believe. Rick was a great guy. Do anything for you. No matter rain or snow. He will be for sure missed in this world. He always was the problem solver. Rest in piece old friend. Warm thoughts go out to the rest of the family.
Thursday January 7, 2021
George Hatfield
Going to miss ya man
Wednesday January 6, 2021
Martina
I am sorry for your loss. My prayers and positive thoughts for the family.