William May
1947 - 2021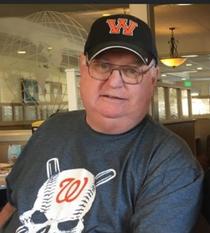 William "Bill" Clifton May
WHEELERSBURG-William "Bill" Clifton May, 73, of Wheelersburg passed away Friday, January 15, 2021 at SOMC Hospice in Portsmouth. Bill was born September 11, 1947 in Wheelersburg to the late Clifton May and Opal Fannin May. Bill was a high school graduate and retired as a correction officer at SOCF in Lucasville, and attended Rubyville Community Church. In addition to his parents Bill was preceded in death by his brother, Oval May. Bill is survived by his wife of 54 years, Sue Arthur May, whom he married October 1, 1966 in Greenup, KY. Bill is also survived by three children, Scott and Christi May, Kim and Dan Horner and Chad and Mollie May; six grandchildren, Kyle and Vanessa Horner, Cassidy and Wade Martin, Austin and Tori May, Luke May, Nathan May and Peyton May; three great grandchildren, Kash, Kambry and Kruz Horner and baby Martin on the way. Also surviving are three sisters, Elaine Miller, Sue Warner and Judy Allen and a brother, Bob May. Bill loved God, his family, hunting and the Wheelersburg Pirates. In lieu of flowers, the family request donations be made in Bill's name to the Wheelersburg Athletic Association.
Services for Bill will be 11:00 am Thursday, January 21, 2021 at Rubyville Community Church with Pastor Calvin Ray Evans and Pastor Brian Baer. The family will receive friends at Harrison-Pyles Funeral Home in Wheelersburg Wednesday, January 20, 2021 from 5:00-8:00 pm and one hour before the service at the church on Thursday. Condolences to the family may be made at www.harrison-pyles.com
Condolences
Wednesday January 20, 2021
Mike piguet
Bonnie and I would like tell you how sorry to hear of Bills passing. He would always greet me ( HEY we going to Win) I don't know Bill. Yes we will by some number. I can see him setting in his chair ready to go. He will be missed. God Bless
Tuesday January 19, 2021
Nikki Davis
This was hard news to hear, my cookie monster. I'll always remember him chasing me around and making me laugh. He was and always will be so special and dear to me. I love you all and wish I could be there to say goodbye. I'm praying for you. He was an amazing man and truly will be so missed.
Tuesday January 19, 2021
Alan Chapman
My condolences over the passing of Bill. We worked together for so many years. A very fine man with a great sense of humor and a loyal employee to SOCF. Always there when needed and one of the BEST shakedown officers at the facility. Him and his partner, Roger, definitely earned the name of Starsky and Hutch. My thoughts and prayers are with the entire family during this difficult time in your lives. Rest in Peace, my friend. II Cor. 5 6-8.
Monday January 18, 2021
Wanda Lawson
So sorry to hear of Bill May passing away. I have known Bill since childhood. Sue was my best friend growing up. What great times we had hanging out together. Many wonderful memories. Friday nights at Sue's house playing cards or watching TV. Sue was dating Bill and I was dating Bill's best friend Ike Whitt. We all grew up together. Bill always had a smile on his face and he sure loved Sue. Bill was loved by his family and friends. May you Rest In Peace my old friend. My thoughts and prayers are with your family as they make their way through saying goodbye to you.
Monday January 18, 2021
Roger McAllister
This has been a sad day, for Bill and I worked together for many years at SOCF. Friends at work and after we retired. Bill and I was talking not long ago about all the stuff we got into, we was known for many years as Starkey and Hutch and it stayed with us yet today. Sue you the kids keep your head up as Bill would not have it anyway else. Bill I consider you one of my Best friends and You will be my heart forever. Love you Buddy
Monday January 18, 2021
Gary & Brenda Asche
Dear Sue, Scott, Kim, Chad and Families, We are saddened to hear of Bill's passing...His sense of humor was beyond measure and something we will never forget... One of our greatest blessings is to know we will be walking and talking together again on the golden streets of Heaven...It's wonderful to know there is no more suffering here for Bill ...Our prayer is that each of You feel the warmth of GOD'S Presence and Love wrapped ever so tightly around You as You face the days ahead. Fly high, Bill, and enjoy your stroll all over Heaven! Love and Prayers, Gary and Brenda
Monday January 18, 2021
Hank and Sherry Hatcher
Our thoughts and prayers are with all of you family . We love you and support you in every way . We will always be there for you . You don't even need to call, we will know . Hank says 'love you brother ' .
Monday January 18, 2021
Paul Conley
Prayers for all during this difficult time.
Monday January 18, 2021
william scurlock
My condolences go out to Bill's family today. I worked with Bill at SOCF. It was always good to see Bill when there was a disturbance. He had your back and took charge of the situation. I enjoyed working with him.
Monday January 18, 2021
Billie J Jarvis
Prayers for you all...So So sorry for your loss!!!! Love u all!!!
Sunday January 17, 2021
Ralph and julia bond
So sorry for your loss.
Sunday January 17, 2021
Brother Bob
May God Bless You & Sue & Family.. I know your with God now.You will be Greatly Missed or earth. But I know we will be together again. I Love you and admire the wonderful Faith family You had while ion this earth. Love Brother Bob
Saturday January 16, 2021
Dave Traylor
What a great guy....the patriarch of a great family. Sue...Scott...Kim...Chad and family... I'm truly sorry to hear of Bill's passing. I have great childhood memories of my time with him and your family. My condolences to all. Dave
Saturday January 16, 2021
Bill Woodrum
Thoughts and prayers are with the entire family.