Christopher Payton
1982 - 2021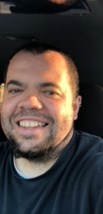 Adam "Maddogg" Payton
WHEELERSBURG-Adam "Maddogg" Payton, 38, passed away Sunday, January 31, 2021 at his home. Adam was born July 17, 1982 in Portsmouth, OH to Dale and Teena Collett Payton. Adam was an avid sports fanatic, especially for UC Bearcats, Ohio State and the Burg. In addition to his parents, Adam is survived by his wife, Deborah Stout Payton whom he married July 9, 2011 in New Boston, Ohio. He is also survived by a son, Trevor Payton; two brothers, Curt Conley (Carol) and Bryan Payton and two sisters, Jacqueline Hickman (Chris) and Phyllisa Bihl (Steven).
Services for Adam will be 11:00 am Thursday, February 4, 2021 at Harrison-Pyles Funeral Home in Wheelersburg. Interment will be in Scioto Burial Park. The family will receive friends at the funeral home 5:00-7:00 pm Wednesday, February 3, 2021 and one hour before the 11:00 am service on Thursday. Condolences to the family may be made at www.harrison-pyles.com.
Condolences
Friday February 12, 2021
Tom
Nice young man! Prayers to all the family!
Thursday February 4, 2021
Mike Piguet
I was just talking sports with him . So sorry for your loss.
Wednesday February 3, 2021
Sam&karren griffith/ George & Janet Welty
So sorry to hear about Adam he will be missed
Wednesday February 3, 2021
Joy armes& mike jennings
Teena,Mike and I are so very sorry for the loss of your son. Sending lots of hugs.
Tuesday February 2, 2021
Harry
So very sad! A nice young man! Prayers to his family!!!!!!TYX7TK
Tuesday February 2, 2021
ron & rita conley
our heartfelt condolences and prayers. so sad..
Monday February 1, 2021
Randell Caldwell
Adam I wish we had the time to go back to high school, run the roads, hit the restaurants and movies again. You will truly be missed and loved by so many. You did me a solid favor in high school that most don't even know about, and I just wish I could have repaid the favor in full. We will see each other again one day until then rest easy brother. Fly High my Friend!
Monday February 1, 2021
Mike Armstrong
I was so sorry to hear about the death of Adam. He was a fixture on the old JJ Huddle site and currently Southeastern Ohio Preps. He always spoke to me at athletic events and loved talking about sports, his car but most of all his wife and son. May all of you find peace during these difficult days. Rest In Peace my friend and just for today, Go Bearcats!
Monday February 1, 2021
Kim
Nice young man!