Richard Johnson
1954 - 2021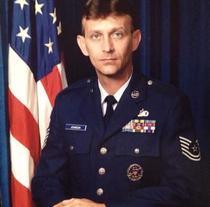 Richard Lane Johnson
FRANKLIN FURNACE-Richard Lane Johnson, 66, of Franklin Furnace, passed away Monday, March 22, 2021 at his home. Richard was born December 10, 1954 in Ironton, Ohio to the late Chester "Howard" Johnson and Ruth Jolene Ratliff Johnson. Richard was a retired U.S. Air Force veteran with 22 years' service, serving in Vietnam and several other theaters. He had a BA in Business and worked for the U.S. Postal Service as a mail carrier. He coached boys and girls basketball, softball and baseball at Green Schools and he was a basketball referee and baseball and softball umpire. In addition to his parents, Richard was preceded in death by a brother, Charles Lloyd Johnson and his granddaughter, Gabriel Schools. Richard is survived by his wife Wendy Wagner Johnson whom he married October 21, 1993 in Anne Arrundel County, MD; two sons, Richard Shane Johnson and Aaron Joshua Johnson; four daughters, Lisa Lynn Johnson, Kelley Jo Johnson, Breanna Renea Clarke and Devon Nichole Johnson; four sisters, Sharon Kay Vaughn, Julia Ann Davis, Diane Elaine Sampson and Shelia Jeanette Dingess; eleven grandchildren, Jaiden Moore, Jordan Moore, Tristan Clarke, Ava Clarke, Kalley Danford, Kristen Eudy, Mason Crane, Sierra Dominey, Dustin Johnson, Lissa Dominey and Evan Anderson and twelve great grandchildren.
Services for Richard will be 7:00 pm Saturday, March 27, 2021 at Harrison-Pyles Funeral Home in Wheelersburg with Pastor Roger Lavender officiating. The family will receive friends at the funeral from 5:00 pm until the 7:00 pm service. American Legion James Dickey Post #23 will be doing Military Rites after the 7:00 pm service. Condolences for Richard may be made at www.harrison-pyles.com.
Condolences
Wednesday March 24, 2021
Fred and Juanita Clarke
Sorry for your loss. Thoughts and prayers for the family.
Wednesday March 24, 2021
Robert & Judy Tipman
Wendy,sorry to hear about Rick.
Tuesday March 23, 2021
Aaron and Shannon Miller
Wendy, and kids, We are so sorry for your loss! Rick was a wonderful person. May God be with you and your family during these difficult times. We love you all and we are praying for your comfort.