Benny Gerlach
1943 - 2021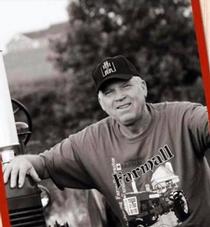 Benny J. Gerlach
WHEELERSBURG-Benny J. Gerlach, 77, of Wheelersburg, passed away at his home unexpectedly on Sunday, August 8, 2021, surrounded by his family. Ben was born in Portsmouth, Ohio on November 12, 1943, to the late Carl and Catherine Gerlach of Wheelersburg. He was also preceded in death by his brother, Bob Gerlach, also of Wheelersburg. Surviving siblings are William "Bill" Gerlach and one sister, Betty Bahner, both of Wheelersburg. Ben is also survived by his loving wife of 52 years, Debbie Driver Gerlach. They enjoyed traveling around the world together, riding in their woods, camping and spending time with their family. By his side when he passed was his daughter, Amy Copley (Mark) and his grandchildren, Blake and Marissa Copley of Wheelersburg. He loved them with his whole heart. He also leaves behind a special son-in-law Mark, whom he loved like his own son. Mark was always there anytime Ben needed him. He worked and retired from Armco (AK Steel), Fields Excavating of Kitts Hill, Ohio and the Union of Operating Engineers Local 181 of Ashland, KY. He loved his work, but what he loved most of all was his family, his dog, Shiloh, restoring his countless collection of Farmall tractors and rebuilding anything he could tear apart. He was the finest diesel mechanic around. Ben also served in the Army reserves after high school. He was a wonderful husband, father, grandfather and friend. He will be missed and the memories will be cherished for years to come by all who loved him. Thanks for the years of laughter and for your countless hours of hard work, sweat and tears that you poured into your family. We love you. Gone, but never forgotten. Private services will be held at the convenience of the family. Harrison-Pyles Funeral Home in Wheelersburg has been entrusted with the arrangements. Condolences to the family may be made at www.harrison-pyles.com. Then Jesus said, "Come to me, all of you who are weary and carry heavy burdens and I will give you rest." Matthew 11:28.
Condolences
Tuesday August 10, 2021
Janie Loper
To Amy and family, I am so sorry to see about your father's passing. Prayers for all you during the difficult days ahead. Your friend, Janie Loper????
Tuesday August 10, 2021
Homer Rose
Benny was great guy & fellow co-worker. He loved life & enjoyed stirring the pot. Probably the most knowledgeable equipment mechanic that I had the pleasure to work with. Prayers for all the family. RIP my friend, you will be missed. Homer Rose
Tuesday August 10, 2021
Connie Wicker
Sending you love and caring wishes to let you know you are never far from my thoughts.The joy and happiness your loved one brought into your lives will not be forgotten. He can only be physically gone but never the life lived and the memories shared. Have faith, be strong and know that you're not alone." Sending hugs, love and lots of prayers for you and your family.
Tuesday August 10, 2021
Shawna Fliehman
So very sorry to hear about the passing of Ben. Many prayers of comfort for all of you during this difficult time and in the days ahead.