Joseph Stepp
1943 - 2021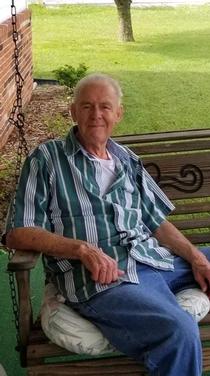 Joseph B. Stepp
WHEELERSBURG-Joseph B. Stepp, 78, of Wheelersburg, passed away Saturday, August 28, 2021 at SOMC in Portsmouth. Joseph was born January 31, 1943 in Chattaroy, WV to the late John B. Stepp and Anna Lee Wells Stepp. Joseph was employed and retired from Norfolk Southern Railway as a clerk. He attended Christ Community Church and he was a devout Ohio State Buckeye, Pittsburgh Steeler and NASCAR fan. Always dedicated to his family. In addition to his parents, Joseph was preceded in death by his brother, George Stepp and sister, Shirley Stepp and two twin children of miscarriage. Joseph is survived by his loving wife, Donna Elliott Stepp whom he married February 14, 2013; brother, Glenn Stepp of Chillicothe, OH; sister, Betty Prose of Powell, OH; sons, Timothy (Charla) Stepp of Wheelersburg, OH, Thomas (Ashley) Stepp of Canal Winchester, OH, daughter, Sherry Jordan of Vanceburg, KY; grandchildren, Christa (Kyle) Call, Brianna Adkins, Hunter Stepp, Jonathan (Rachel) Stepp, Alexandra Delong and Allison Martin; great grandchildren, Ava, Kylie, Alaina and Zach and several nieces and nephews. Also surviving are four step-children, Sheila (Matthew) Kelley of South Shore, KY, Tim (Denise) Bowling of Portsmouth, OH, Lee (Tawnya) Bowling of Portsmouth, OH, Mike Bowling of Portsmouth, OH and several step-grandchildren and great grandchildren.
Services for Joseph will be 11:00 am Thursday, September 2, 2021 at Harrison-Pyles Funeral Home in Wheelersburg. Interment will be in Sunset Memorial Gardens. The family will receive friends at the funeral home 6:00-8:00 pm Wednesday, September 1, 2021 and one hour before the 11:00 am service on Thursday. Condolences to the family may be made at www.harrison-pyles.com.
Condolences
Wednesday September 1, 2021
Penny
Will Always Love You!!!
Tuesday August 31, 2021
Penny
Miss you terribly!!!!!