Sharon Mowery
1942 - 2022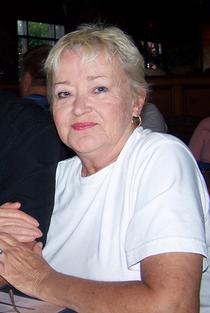 Sharon Kay Mowery
WHEELERSBURG-Sharon Kay Mowery, 79, of Wheelersburg, passed away peacefully at home surrounded by her family, Tuesday, August 2, 2022. Sharon was born December 17, 1942 in Portsmouth to the late Maynard Jones and Lillian Groves Jones. Sharon was a high school graduate and was employed at the Service Desk at Walmart. She attended Sciotodale Freewill Baptist Church. In addition to her parents, Sharon was preceded in death by her husband, Jerry Mowery, November 11, 2021, whom she married July 3, 1969 in West Portsmouth. Sharon is survived by two sons, Chad (Brandy) Mowery and Ty Harding; two daughters, Rachelle (Jon) Collins and Lana (Chris) Clark; a brother, Randy Jones; a sister, Patsy Morgan; eight grandchildren, Lyden, Addi, Sami, Mia, Xander, Tyler, Daniel and Conner and two great grandchildren. The family wishes to extend a special thank you to SOMC Hospice and her caregiver Trudy Burton.
Services for Sharon will be 11:00 am Friday, August 5, 2022 at Harrison-Pyles Funeral Home in Wheelersburg, with Pastor Aaron Reed officiating. Interment will be in Memorial Burial Park. The family will receive family and friends at the funeral home 5:00-8:00 pm Thursday, August 4, 2022 and one hour before the 11:00 am service Friday. Condolences to the family may be made at www.harrison-pyles.com.
Condolences
Wednesday August 3, 2022
Luke Swain
So so sorry to hear of Aunt Sharon's passing. I'll always remember her laughing up a storm with mom and Randy when they got together. Mom is heartbroken, but happy that Sharon is no longer in pain and moved on to a better place. God bless you guys. We love you. -Luke
Wednesday August 3, 2022
Aaron Reed
May God give you grace as you grieve and help you face the days ahead. You are in our prayers at Sciotodale Church.